The program has test data generators menu. It contains a few most useful generators those can be selected by one click.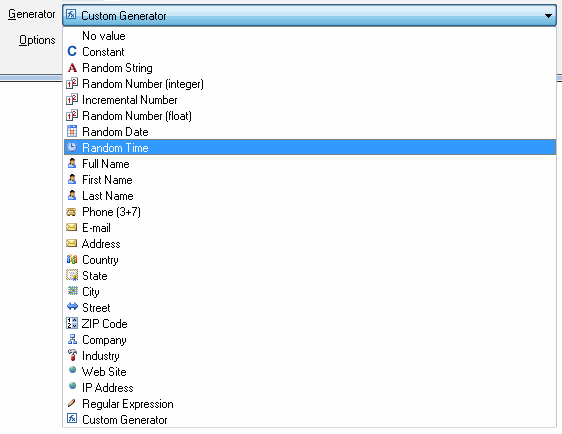 There are:
"No value" makes empty value for node or attribute.
"Constant" generates fixed value in any case.
"Random String" create a random alphabetical string.
"Random Integer Number".
"Autoincremental Integer Value" creates a sequence of integer values with custom step (1 by default)
"Random Float Number".
"Random Date"
"Random Time"
"Full Name" generates first and last name string with space separator
"First Name"
"Last Name"
"Phone (3+7)" generates phone number with area code.
"E-mail"
"Address" generates home and street address string.
"Country"
"State" retrieves random US State name from predefined library.
"City"
"Street"
"ZIP code"
"Company" retrieves random company name from the predefined value library.
"Industry"
"Web Site" generates string like "www.name.com"
"IP Address"
Regular Expression
See also: generator options.