The program supports export to the following formats: plain text, HTML, XML and RTF (MS Word compatible).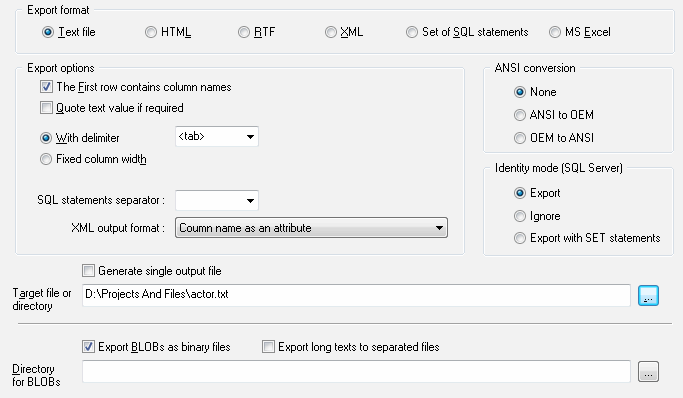 The program allows you to select the export type for text output: delimited or fixed width. For text output you can specify a field delimiter by entering or selecting it from the list.
There are two formats for text output: with delimiters or fixed width. The first row of the output file can contain column names. Also, the program can quote non-numeric values if necessary.
For SQL output the user can specify statement-to-statement delimiter like 'go' or ';'. Custom delimiters are available.
There are two output modes if source data has more than one table or another source:
Single file. In this case the program write all output data to specified file.
File per object mode. The user should specify output directory instead file in this case.
For XML file there are two formats: column name as an attribute (<column name="A" >) or as a tag (<A>).
If you enable the "Export BLOBs" option, the program will save each binary object in a separated file with the ".bin" extension in the directory selected (by default, in current directory). The file name will contain the record number and the field number, for example, "MyTable_Record_5_Column_7.bin".
For Microsoft SQL Server and "SQL" output format there are three options for "identity" columns:
Export. The program will export values in this case.
Ignore. The program skips identity columns.
Export with SET. The program will export identify and add "set identify" on or off SQL statements to output file.