DTM Migration Kit is a set of database tools for data import, export, and migration. It supports visual and automatic data transformation control.
Key product features are:
Easy to create and to execute transformation scripts with the wizard-like interface.
Supports ODBC, IDAPI, OLE DB, and Oracle Call Interface.
Allows you to export data to the plain text, HTML, XML and RTF (MS Word compatible) formats.
Imports data from the most popular desktop formats and databases: text, DBF, Paradox, MS Access, Excel.
Supports schema migration as well as data transformation for tables, views, keys and indexes.
Column mapping makes the migration procedure more flexible.
Data type mapping allows users to prepare complex migration between different type of databases.
Built-in integration with Windows Task Scheduler.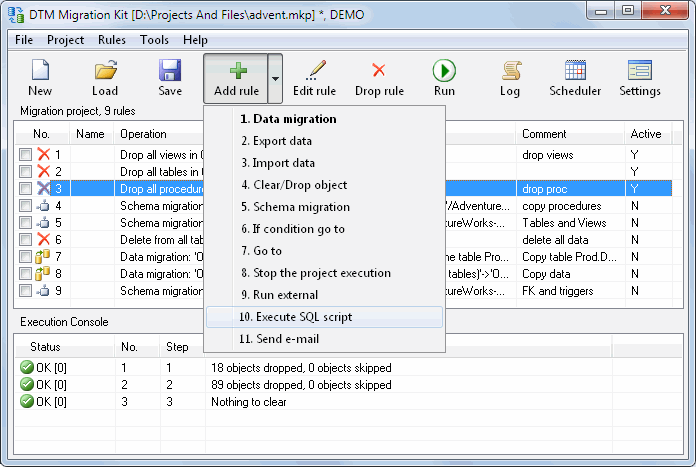 There is a picture of local menu accessed by the right click inside the rules list. See the picture below: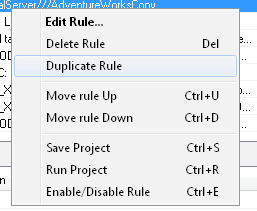 Using this menu you can to:
Disable or enable the selected rule. Program skips disabled rules during project execution.
Open editor dialog box for the current rule.
Duplicate or remove the selected rule.
Save current project.
Run current project.
Move the selected rule up or down in the project.
DTM Migration Kit is a Win32 application that compatible with the following operating systems: Windows XP, Windows 2003/2008/2012 Server family and Windows Vista, 7, 8/10 (desktop). The 64-bit edition is also available.