Data Import Process
The data import process is transformation data from desktop format to database system storage. In the context we dwell with automated process only: the user provides source and target storage and import properties, if necessary.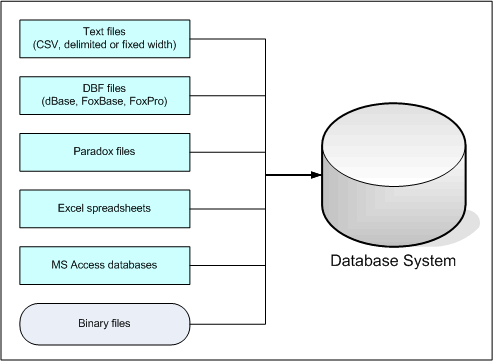 The data import is one of the most important parts of the data management workflow. There are reasons to import data:
The legacy system that uses desktop formats as data storage. Single or multi-step import process is required for loading data to a modern database.
The information system without direct connection: another company, department or remote site with the own data format. The import process is required to unite data with the main system of the company.
Data consolidation from affiliates or subcontractors. The desktop files are very popular for everyday use but the company has to import results to the information system.
Import public domain data to information system: dictionaries, standards, catalogs, etc.
Currently, DTM Migration Kit supports direct import from following formats: text files, DBF files, Paradox files, Microsoft Excel spreadsheets, Microsoft Access data files. Also, the import tool offers large object import from binary files.
The kit was designed as a tool for import automation. That means the user allowed to create a few import rules, unite them to project file and run it by schedule. Also, the migration software offers simple transformation functions for more complex data import process. There are character encoding modification, column mapping, source row selection modes, etc.
For example, the user can import results of the query execution to make some modifications instead of direct data import. Also, he or she can define that the program should import new rows only.
DTM Migration Kit can create new target table based on the structure of data to be imported. Otherwise, the user allowed to select existing table. The column mapping can be allied in this case. If necessary, the migration kit can remove all existing rows from the target table.
Download free demo version (?) of the data export software.
See Also