How to automate export query results to Word document?
Microsoft Word is one of the most popular document editor. A lot of people add data from databases to Word document as a table. DTM Query Reporter is a tool that helps users to do that easy. Moreover, it allows to automate this export process by a few simple steps: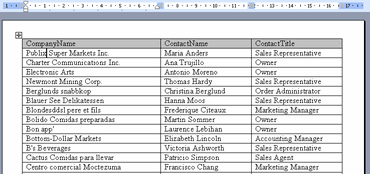 Provide database connection or select desktop data file.
Enter or load query text: statement, script or stored procedure call.
Specify output file name for RTF/Word export. The program will create Microsoft Word compatible file.
Save project file (.qpr) with these settings.
Create command line with saved project file as parameter. The user must provide '-c' switch to run the software in GUI-free mode.
Pass this command line to schedule system. For example, Windows Schedule provides AT system command for this purpose.
There are optional steps to customize the process:
Use SQL file with script instead of immediate query entering.
Use 'value file'. It is external file with statement parts, parameters or even whole SQL scripts.
Styles modification. The tool allows users to specify style name for report items.
Select landscape or portrait mode.
See Also