How to use DTM DB Stress as benchmarking tool for Oracle Databases?
DTM DB Stress was designed to perform load testing and collect performance metrics for Oracle databases, database based solutions, and servers. This benchmarking tool is also suitable for configurations comparison. The user is enabled to compare metrics for a few software or hardware configurations. The tool provides comparison results as HTML report (sample) or set of diagrams.
Download free demo version right now
What are the questions to be answered with this tool? There are: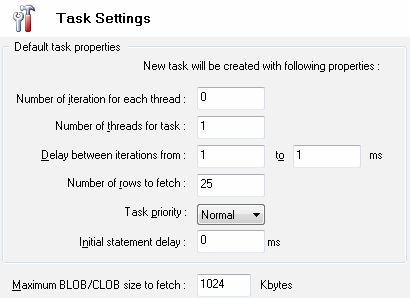 Can the server or application perform required number of transactions per second for required number of concurrent connections?
How many OLAP transactions it can commit per second in single user mode: overnight reporting, etc.
Can the server support a required number of users for transactions typical for my business?
Can I increase performance enough if add RAM to server hardware?
Has my server free resources to additional loading support?
Why DTM DB Stress
It uses native Oracle Call Interface with minimal communication overhead.
The benchmarking tool offers rich reporting tool for execution, report comparison and project.
DTM DB Stress allows users to run the same test against different database systems and compare results like Oracle v.s. IBM DB2.
The software can include Oracle execution plan to the report.
See Also